Durable Yokohama Type Pneumatic Fenders Floating Rubber Fender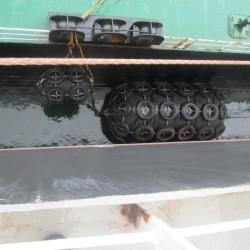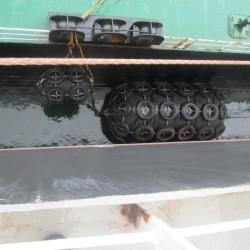 | | |
| --- | --- |
| Categories | CNT Pneumatic Rubber Fender |
| Brand | Jerryborg Marine,safe docking,safe mooring |
| Model | JRBM-01 |
| Product Name | Pneumatic fenders,floating rubber fenders |
| Material | NR |
| Model | JRB-PF-01 |
| Fender Diameter | 0.5-4.5 meters |
| Fender Length | 1.0-12.0 meters |
| Standard | ISO: 17357-2014 |
| Brand Name | Jerryborg |
| FOB port | Qingdao, Shanghai, Guangzhou |
| Terms of Payment | L/C, D/A, D/P, Western Union, MoneyGram, T/T, Paypal |
| Update Time | 2022-01-29 |
Durable Yokohama Type Pneumatic Fenders Floating Rubber Fender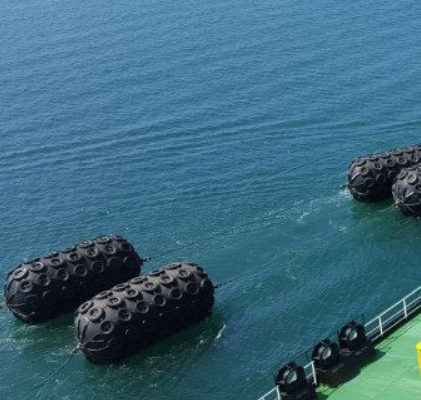 Yokohama Type Pneumatic Fenders
Yokohama type pneumatic fender is composed of inner rubber layer, outer rubber layer, and reinforced synthetic-tire-cord layer which is strong enough to withstand external compression and twisting force. Yokohama type pneumatic fenders are widely used in STS transfer operations and STD berthing protection. They're easy to install and deflated, and adapt to the tide perfectly. Jerryborg offers various types and dimensions of Yokohama type pneumatic fenders upon customer's request.
Fully compliant with the ISO17357 standard, Jerryborg's Yokohama type pneumatic fender can also be equipped with chain and tire net(CTN)to provide additional protection to extend its service life.
Yokohama Type Pneumatic Fenders Advantages
Yokohama type pneumatic fender is filled with pressure air inside that make it flexible and easy to float on the water and adapt to the tide variation. 

2. Strong Enough against Shear Force
Yokohama type pneumatic fender is made of reinforced-tyre-cord layers which enable to make it cope against the shear forces and compression forces.

  3. No Variation or Deformation in Performance
Yokohama type pneumatic fender is filled with air of compressive elasticity inside,the deformation caused by fatigue is absent. In the experiment of yokohama type pneumatic fender, the performance variation will not happen if the pressure is maintained properly.  
Our yokohama type pneumatic fender remains the same without any variation or deformation even at temperatures under -50 degrees centigrade (-58 degrees fahrenheit).
Yokohama Type Pneumatic Fenders Specifications
Nominal Size

diameter × length

mm

Initial internal pressure

kPa

Guaranteed energy absorption (GEA)

Reaction force at GEA deflection

(R)

Hull pressure (Internal pressure)

at GEA deflection (P)

Minimum value at deflection 60 ± 5 % kJ

Tolerance ±10 % kN

Reference value kPa

500 × 1 000

50

6

64

132

600 × 1 000

50

8

74

126

700 × 1 500

50

17

137

135

1 000 × 1 500

50

32

182

122

1 000 × 2 000

50

45

257

132

1 200 × 2 000

50

63

297

126

1 350 × 2 500

50

102

427

130

1 500 × 3 000

50

153

579

132

1 700 × 3 000

50

191

639

128

2 000 × 3 500

50

308

875

128

2 500 × 4 000

50

663

1381

137

2 500 × 5 500

50

943

2019

148

3 300 × 4 500

50

1175

1884

130

3 300 × 6 500

50

1814

3015

146

3 300 × 10 600

50

3067

5257

158

4 500 × 9 000

50

4752

5747

146

4 500 × 12 000

50

6473

7984

154
Nominal size

diameter × length

mm

Initial internal pressure

kPa

Guaranteed energy absorption (GEA)

Reaction force at GEA deflection

(R)

Hull pressure (Internal pressure)

at GEA deflection (P)

Minimum value at deflection

60 ± 5 % kJ

Tolerance ±10 % kN

Reference value kPa

500 × 1 000

80

8

85

174

600 × 1 000

80

11

98

166

700 × 1 500

80

24

180

177

1 000 × 1 500

80

45

239

160

1 000 × 2 000

80

63

338

174

1 200 × 2 000

80

88

390

166

1 350 × 2 500

80

142

561

170

1 500 × 3 000

80

214

761

174

1 700 × 3 000

80

267

840

168

2 000 × 3 500

80

430

1150

168

2 500 × 4 000

80

925

1815

180

2 500 × 5 500

80

1317

2653

195

3 300 × 4 500

80

1640

2476

171

3 300 × 6 500

80

2532

3961

191

3 300 × 10 600

80

4281

6907

208

4 500 × 9 000

80

6633

7551

192

4 500 × 12 000

80

9037

10490

202