Marine Boat Dock Fixed V Type Solid Port Super Arch Rubber Fender For Sale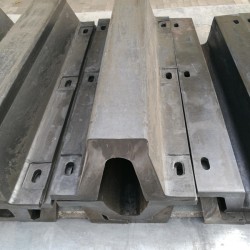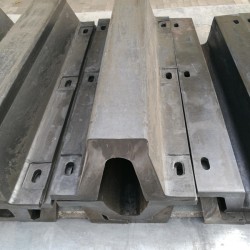 | | |
| --- | --- |
| Categories | Super Arch Rubber Fender |
| Brand | Jerryborg Marine,safe docking,safe mooring |
| Model | JRBMA-01 |
| material | natual rubber |
| place of origin | Qingdao, China |
| color | black |
| brand name | Jerryborg |
| usage | protect boat |
| size | customized |
| MOQ | 1 pcs |
| certificate | BV/CCS/TUV/ISO/LR |
| Update Time | 2022-01-17 |
Marine Boat Dock Fixed V Type Solid Port Super Arch Rubber Fender For Sale 
Super Arch Rubber Fender
Super arch rubber fender, also known as SA type super arch rubber fender, V type rubber fender, The top of fender is usually embedded steel mount and nut. By connecting the front panel, UHMW-PE face pad installed outside of front panel, it can lower the friction factor between fender and vessel to avoid the damage on vessel and extend the serve life of the fender. With the sample and durable design, super arch rubber fender performs stable and excellent and provide trouble-free service for berthing even under severe weather conditions.
Super arch rubber fender is made of high-quality natural rubber which is resistant to abrasion, corrosion, seawater, ageing,etc. Compared with traditional arch rubber fender, it has better stability and stronger attachment to the supporting structure. Besides that, the energy absorption has also been optimized, it's perfectly suitable for vessels with high allowable hull pressure and the places where mounting space is limited.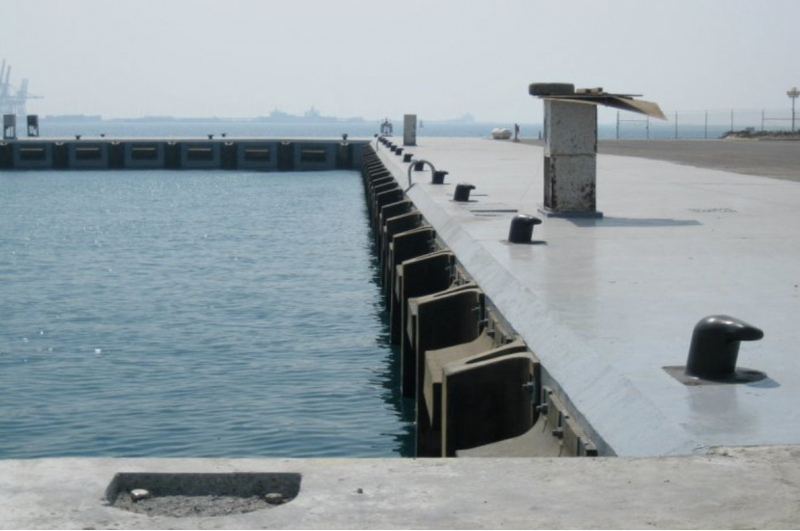 Super Arch Rubber Fender Features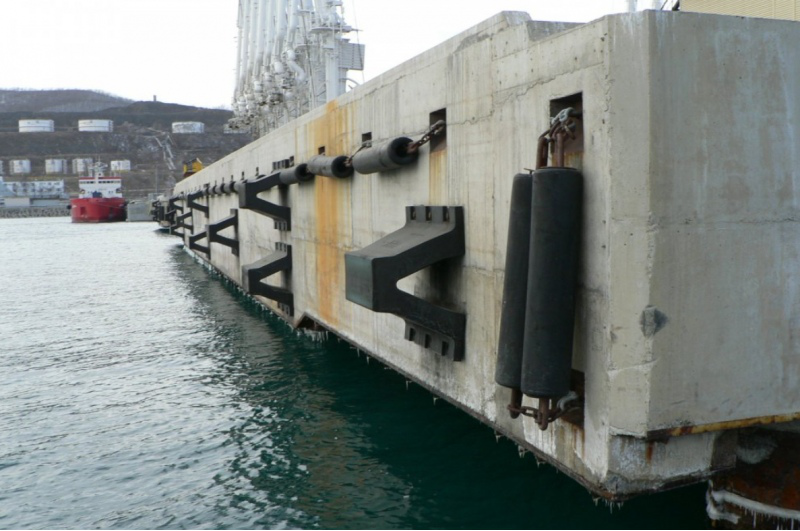 Features
1. More reasonable structure with high durability

2. Higher energy absorption with lower reaction force than normal V type rubber fender
3. Flexible and convenient installation, wide selection of sizes and performances
4. Front panel with UHMW-PE face pad could be installed on the top of fender to reduce surface pressure  and friction factor with ship which keeps lower shear strength while vessel berthing.
Super Arch Rubber Fender Structure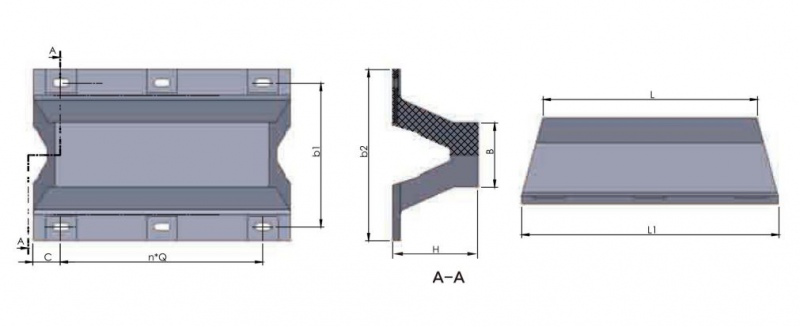 Super Arch Rubber Fender Specification
| | | | | | | | | | |
| --- | --- | --- | --- | --- | --- | --- | --- | --- | --- |
| Spec. | H | L | LI | C | Q | n | B | bl | b2 |
| BA200xl000 | 200 | 1000 | 1100 | 120 | 860 | 1 | 145 | 320 | 400 |
| BA 200x1500 | 200 | 1500 | 1600 | 120 | 680 | 2 | 145 | 320 | 400 |
| BA 200x2000 | 200 | 2000 | 2100 | 120 | 620 | 3 | 145 | 320 | 400 |
| BA 200x2500 | 200 | 2500 | 2600 | 122.5 | 785 | 3 | 145 | 320 | 400 |
| BA 200x3000 | 200 | 3000 | 3100 | 120 | 715 | 4 | 145 | 320 | 400 |
| BA 200x3500 | 200 | 3500 | 3600 | 120 | 672 | 5 | 145 | 320 | 400 |
| BA 250x1000 | 250 | 1000 | 1125 | 130 | 865 | 1 | 164 | 410 | 500 |
| BA 250x1500 | 250 | 1500 | 1625 | 132.5 | 680 | 2 | 164 | 410 | 500 |
| BA 250x2000 | 250 | 2000 | 2125 | 132.5 | 620 | 3 | 164 | 410 | 500 |
| BA 250x2500 | 250 | 2500 | 2625 | 127.5 | 790 | 3 | 164 | 410 | 500 |
| BA 250x3000 | 250 | 3000 | 3125 | 132.5 | 715 | 4 | 164 | 410 | 500 |
| BA 250x3500 | 250 | 3500 | 3625 | 130 | 673 | 5 | 164 | 410 | 500 |
| BA 300x1000 | 300 | 1000 | 1150 | 140 | 870 | 1 | 225 | 490 | 600 |
| BA 300x1500 | 300 | 1500 | 1650 | 140 | 685 | 2 | 225 | 490 | 600 |
| BA 300x2000 | 300 | 2000 | 2150 | 137.5 | 625 | 3 | 225 | 490 | 600 |
| BA 300x2500 | 300 | 2500 | 2650 | 140 | 790 | 3 | 225 | 490 | 600 |
| BA 300x3000 | 300 | 3000 | 3150 | 145 | 715 | 4 | 225 | 490 | 600 |
| BA 300x3500 | 300 | 3500 | 3650 | 140 | 674 | 5 | 225 | 490 | 600 |
| BA 400x1000 | 400 | 1000 | 1200 | 150 | 900 | 1 | 300 | 670 | 800 |
| BA 400x1500 | 400 | 1500 | 1700 | 150 | 700 | 2 | 300 | 670 | 800 |
| BA 400x2000 | 400 | 2000 | 2200 | 147.5 | 635 | 3 | 300 | 670 | 800 |
| BA 400x2500 | 400 | 2500 | 2700 | 150 | 800 | 3 | 300 | 670 | 800 |
| BA 400x3000 | 400 | 3000 | 3200 | 150 | 725 | 4 | 300 | 670 | 800 |
| BA 400x3500 | 400 | 3500 | 3700 | 150 | 680 | 5 | 300 | 670 | 800 |
| BA 500x1000 | 500 | 1000 | 1250 | 160 | 930 | 1 | 375 | 840 | 1000 |
| BA 500x1500 | 500 | 1500 | 1750 | 160 | 715 | 2 | 375 | 840 | 1000 |
| BA 500x2000 | 500 | 2000 | 2250 | 157.5 | 645 | 3 | 375 | 840 | 1000 |
| BA 500x2500 | 500 | 2500 | 2750 | 160 | 810 | 3 | 375 | 840 | 1000 |
| BA 500x3000 | 500 | 3000 | 3250 | 165 | 730 | 4 | 375 | 840 | 1000 |
| BA 500x3500 | 500 | 3500 | 3750 | 160 | 686 | 5 | 375 | 840 | 1000 |
| BA 600x1000 | 600 | 1000 | 1300 | 170 | 960 | 1 | 450 | 1010 | 1200 |