Marine Oil Hose Flexible Marine Hose For Ship To Ship Oil Transport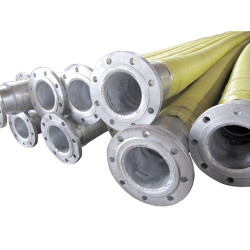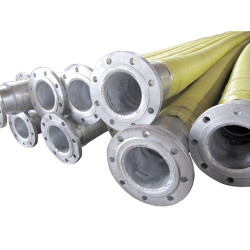 | | |
| --- | --- |
| Categories | STS Oil Hose |
| Brand | Jerryborg Marine,safe docking,safe mooring |
| Model | JRBMA-01 |
| material | natural rubber |
| color | black |
| place of origin | Qingdao, China |
| brand name | Jerryborg |
| application | STS petroleum delivery |
| warranty | 12 months |
| safety factor | 1:5 |
| characteristics | gas tightness, low temperature |
| Update Time | 2022-01-25 |
Marine Oil Hose Flexible Marine Hose For Ship To Ship Oil Transport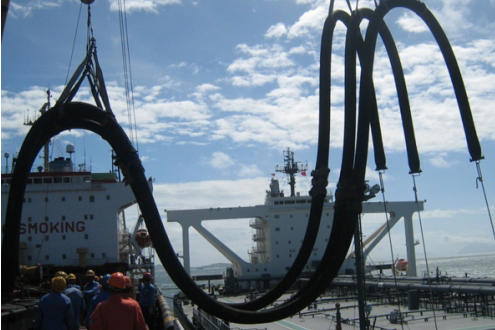 Marine oil hose description
Fully compliant with OCIMF standards, Jerryborg marine oil hose is able to withstand abrasion and bending forces and still performs excellent at low temperatures. Besides, the risk of leakage or bulge is absent. 
Marine oil hose consists of inner tube, reinforcement and cover layer. The cover layer made of CR synthetic rubber
 protects the hose body from the damage of external corrosive enviroment. Reinforcement is composed of high tensile strength fabrics with steel wire which make sure that there won't be any cracks. The inner tube is made of synthetic rubber which is resistant to oil and fuel.
Apart from the advantages of easy installation and less 
maintenance, marine oil hose performs well in a temperature range of -25℃
 to 82
℃
. It's safety factor is 5:1.
1. 
Easy to install and maintain
2. Excellent resistance to abrasion, UV, aging and corrosive environment
3. Bear powerful tension and torsion force
4. Withstand the crushing and bending force
5. Independent foam floating casing to prevent water absorption 
Marine Rubber Oil Hose Construction
1. Cover layer: CR compound rubber resistant to abrasion, sunlight and sea water.
2. Reinforcement layer: High tensile polyester fabric with stainless steel helix embedded.
3. Inner tube: Synthetic rubber or thermoplastic material with features of smooth and resisitance to oil and fuel
Marine Rubber Oil Hose Specification
Diameter

Length

6''

6m (19.7ft)

6m (19.7ft)

8m (26.2ft)

10m (32.2ft)

12m (39.4ft)

8m (26.2ft)

10m (32.2ft)

12m (39.4ft)

7.6m (25.0ft)

9.1m (30.0ft)

10m (32.2ft)

12m (39.4ft)
For further information feel free to contact me.