Floating 80 50kpa Pneumatic Fender for Ship Vessel with Chain Net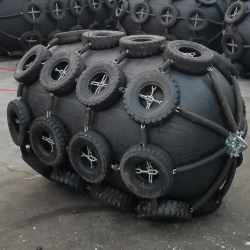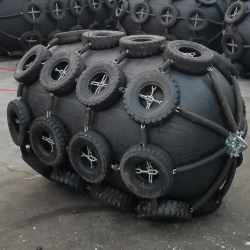 | | |
| --- | --- |
| Categories | CNT Pneumatic Rubber Fender |
| Brand | Jerryborg Marine,safe docking,safe mooring |
| Model | JRBM-01 |
| Product Name | Pneumatic fender |
| Material | Natural rubber |
| Color | Customized |
| Fender Diameter | 0.5-4.5 meters |
| Fender Length | 1.0-9.0 meters |
| Standard | ISO: 17357-2014 |
| FOB port | Qingdao, Shanghai, Guangzhou |
| Terms of Payment | L/C, D/A, D/P, Western Union, MoneyGram, T/T, Paypal |
| Update Time | 2022-01-29 |
Floating 80 50kpa Pneumatic Fender for Ship Vessel  with Chain Net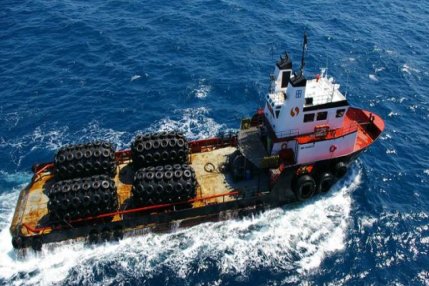 The pneumatic fender was developed in 1958 in Japan. Progress in the development of such floating pneumatic rubber fenders is closely related to the progress and development of ship technology, and has to continuously cope with progressively larger oil tankers such as VLCC's, ULCC's, large gas carriers, bulk carriers and floating structures.

Since pneumatic fender's creation until today, these pneumatic fenders play a critical role in the safe operation of ship berthing and mooring.  
Pneumatic Fender Structure
Pneumatic fenders are covered by the outer layer made of natural rubber. This rubber compound is strong enough to protect the inner layer and synthetic-cord layer from the damage of external forces and severe weather conditions due to its high elasticity and abrasion resistance. 
②

. synthetic-tire-cord layer
The synthetic-tire-cord layer is made of synthetic-tire-cord fabrics, compared with synthetic canvas fabric and synthetic belt fabric, this reinforcement layer performs better in fatigue-resistance and pressure-holding.
The inner layer is designed to seal the air inside the fender.
Pneumatic Fender Advantages
1. Advantage Under Severe Weather Conditions
Under normal circumstances, the ship movement caused by high and long-period waves or strong wind will bring repeated compression and shearing forces on the fender and make it easier to be fatigue and damage. However pneumatic fender is strong enough to resist severe weather conditions, the reaction force increases slowly compared with solid fender and won't easily reach the maximum.

2. Tide Adaptation
Pneumatic fender is filled with pressure air inside that makes it flexible and easy to float on the water and adapt to the tide variation.
3. Safety and Reliability
Pneumatic Fenders are constructed of natural rubber, several layers of strong tire-cord, and are thus resistant to pressure and cutting. The safety factor adopted in the design of this fender is based on accepted theory and has been proven by extensive experimentation.
Pneumatic Fender Specification
Dimension

D (mm)

L (mm)

Guaranteed Energy Absorption 

(KNm)

500

1000

64

6

600

1000

74

8

700

1000

137

17

1000

1500

182

32

1000

2000

257

45

1200

2000

297

63

1350

2500

427

102

1500

2500

499

134

1500

3000

579

153

1700

3000

639

191

2000

3500

875

308

2000

4000

1000

352

2500

4000

1381

663

2500

5500

2019

1131

3000

5000

2422

1357

3000

6000

2906

1293

3300

4500

1884

1175

3300

6500

3015

1814
Dimension

Deflection (60%)

D (mm)

L (mm)

Guaranteed Energy Absorption 

(KNm)

500

1000

84

9

600

1000

94

12

700

1000

179

25

1000

1500

236

47

1000

2000

337

66

1200

2000

386

89

1350

2500

554

143

1500

2500

630

179

1500

3000

756

215

1700

3000

829

262

2000

3500

1126

424

2000

4000

1453

740

2500

4000

1817

925

2500

5500

2653

1327

3000

5000

2689

1558

3000

6000

3275

1878

3300

4500

3476

1640

3300

6500

3829

2508