inflation cylindrical 2*3.5m jerryborg marine rubber fender with SGS ISO17357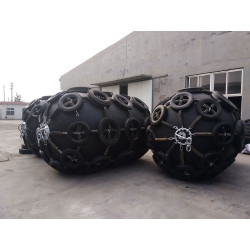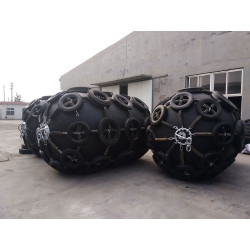 | | |
| --- | --- |
| Categories | CTN Pneumatic Rubber Fender |
| Album | View larger image |
| Brand | Jerryborg Marine,safe docking,safe mooring |
| Model | Pneumatic Rubber Fender 56 |
| name | inflation cylindrical 2*3.5m jerryborg fender |
| Production Standard | ISO17357-1:2014 |
| Rubber Material | vulcanized natural rubber |
| Fender Diameter | 500mm-4500mm |
| Fender Length | 500mm-12000mm |
| Cage/Net | tire & chain net |
| Fender Type | Type I pneumatic fender |
| Application | marine |
| packing | nude |
| production time | 7-10days |
| FOB port | Qingdao Port |
| Terms of Payment | L/C, Western Union, T/T, Paypal |
| Update Time | 2020-01-24 |
inflation cylindrical 2*3.5m jerryborg marine rubber fender with SGS  ISO17357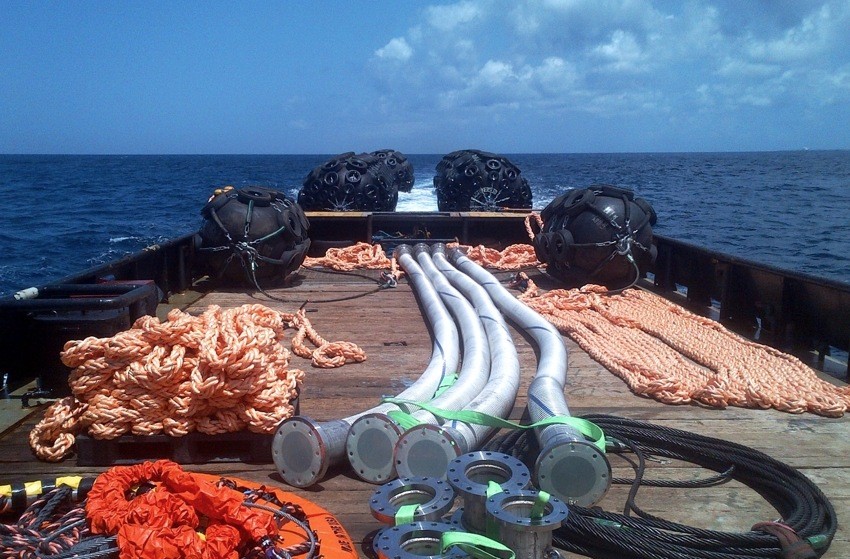 The "Yokohama  Fender" was developed in 1958. Progress in the development of such floating pneumatic rubber fenders is closely related to the progress and development of ship technology, and has to continuously cope with progressively larger oil tankers such as VLCC's, ULCC's, large gas carriers, bulk carriers and floating structures. Yokohama Fenders are used world wide for ship-to-ship (STS) transfer operations, terminals, and for all kinds of ships. 
In 2006, Chinese company invented new manufacturing method of pneumatic fender based on the manufacturing technique of marine rubber ship launching airbag. Jerryborg Marine is one of the earliest manufacturers in China to produce Yokohama type pneumatic rubber fenders with marine airbag technology.
2. Advantages of Jerryborg Marine Pneumatic Fender
2.1  Safety and Reliability
Jerryborg Marine pneumatic rubber fender is constructed of natural rubber, custom layers of strong tire-cord, and are thus resistant to pressure and cutting. The safety factor adopted in the design of this fender is based on accepted theory and has been proven by extensive experimentation. 

2.2 Patented Active Protecting Safety Valve Design
All 
Jerryborg Marine p
neumatic rubber fenders are equipped with a safety valve to release the inside air in the event of accidental over-pressure.
2.3  No Deterioration or Variation in Performance
Jerryborg Marine's
 pneumatic rubber fenders utilize the compressive elasticity of air, therefore performance deterioration due to fatigue is absent.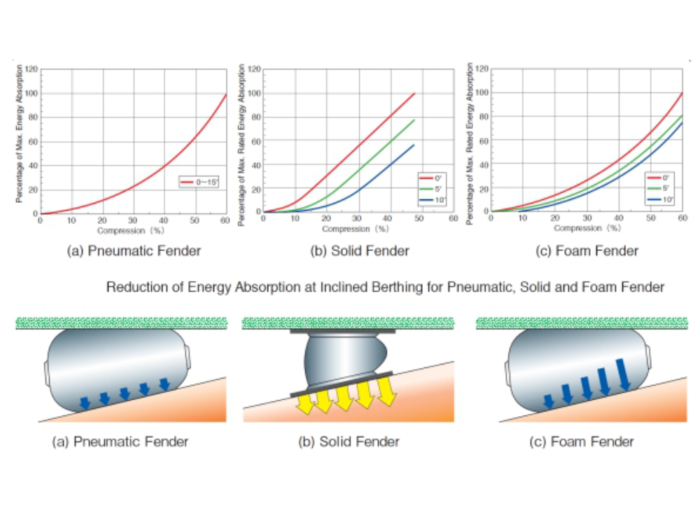 2.4  Advantages at Inclined Berthing
Energy absorption of Jerryborg Marine pneumatic fender does not decrease at inclined compression up to 15 degrees.
2.5 Most Cost Competitive System
The utilization of the compressive elasticity of air provides completely uniform surface pressure on contact, making Yokohama Pneumatic Rubber Fenders ideal. The surface pressure of the Yokohama Pneumatic Rubber Fenders is equal to the internal air pressure. 

Due to low and uniform surface pressure properties, the Yokohama Pneumatic Rubber Fenders are popular at LNG-ship terminals. Soft Reaction Force for Ship and Jetty Structure the reaction force of Yokohama Pneumatic Rubber Fenders does not increase sharply, even under excess load conditions. Therefore, the Pneumatic Rubber Fenders perform well in such cases, and protect ships and mooring facilities. 
3. Pneumatic Fender Types
4. Tire & chain net type pneumatic fender structure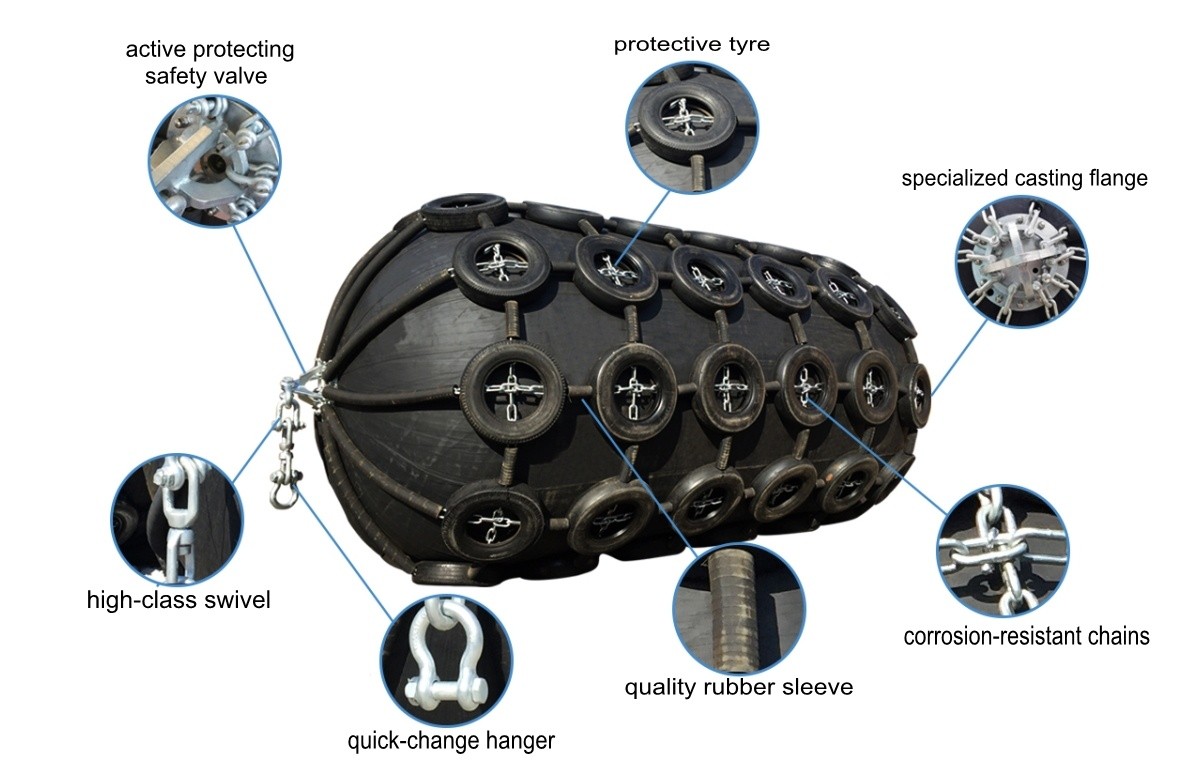 5. How to choose select pneumatic fender models ?
Model Selection of Pneumatic Fender for Small & Middle Size Ship
| | | |
| --- | --- | --- |
| Ship Tonnage(T) | Recommendation Size D x L ( m) | Ship Type |
| 50 | 0.5 x1.0 | Fishing ship |
| 100 | 0.7 x 1.5~1.0 x 1.5 | Fishing ship |
| 200 | 1.0 x 1.5~1.2 x 2.0 | Fishing ship, towing ship |
| 300-500 | 1.2 x 2.0~1.5 x 2.5 | Fishing ship, towing ship |
| 1000 | 1.5 x 2.5~1.5 x 3.0 | |
| 3000 | 2.0 x 3.0~2.0 x 3.5 | |
| 10000 | 2.0 x 3.5~2.5 x 4.0 | |
Model Selection of Pneumatic Fender for Large-tonnage Ship
Ship Tonnage

(DWT)

Assumed Boarding Speed

(M/S)

(KN.M)

Fender Size

D X L(m)

200000

0.15

1890

3.3 x 6.5

150000

0.15

1417

3.3 x 6.5

100000

0.15

945

3.0 x 5.0

85000

0.17

1031

3.0 x 6.0

50000

0.18

680

2.5 x 5.5

40000

0.20

672

2.5 x 5.5

30000

0.22

609

2.5 x 4.0

20000

0.25

525

2.5 x 4.0

15000

0.26

425

2.5 x 4.0

10000

0.28

329

2.0 x 4.0

5000

0.33

228

2.0 x 3.5
6. Test and inspection for commercial fenders
Acceptance testing and inspection for purchased fenders shall be based on the tests and inspections indicated in this clause.
6.1  Material test of rubber
The material test of the outer rubber and the inner rubber shall be conducted in accordance with the specifications and the results shall satisfy the requirements.
6.2 Dimensional inspection
The dimensions of all the fenders shall be inspected at the initial internal pressure and the results shall be within the following tolerances:
a) length: +10 %, −5 % ;
b) diameter: +10 %, −5 %.
The diameter shall be obtained from the average of at least two different measurements taken at the middle of the cylindrical section of the fender.
The diameters of bead ring or other steel material around the flange opening shall be inspected, and the results shall be less than 0,20 D (D: fender diameter).
6.3 Air-leakage test
The air-leakage test shall be conducted on all fenders at initial pressure for more than 30 min, and the test results shall confirm that there is no air leakage.
6.4 Hydrostatic-pressure test
The hydrostatic-pressure test shall be performed for 10 min at the hydrostatic pressure shown as "Test pressure at 0 % deflection" and there shall be no leakage of water and no defects during the test. The frequency of the test shall be one per 20 fenders of each size and pressure. If the customer so requests, one per order of each size and pressure if the quantity is less than 20. Circumferential and longitudinal lengths shall be measured at 10 kPa pressure and at the test pressure.
7. Pneumatic fender performance